An intense week of competition ended Saturday with two outstanding competitions. The first won by his excellence Antoine Delpero of France whose style and incredible agility got him the highest scores of the SUP surf final. Coming in from the other side of Lima the long distance competitors battled hard in the 18 km race that was won by Jamie Mitchell, followed by his Australian team mate Travis Grant. Hats off to our friend Eric Terrien who confirms his good shape by placing third. All results are below.
As for the Swiss team, Jean-Luc Malfroid places at an honorable 18th position and shows that his winter training on lake Geneva paid of. Robert Etienne veteran of the competition places 24th. The Swiss SUP Team left Lima not only having accomplished their dream of being part of this historical event, but in placing Switzerland in 14th place of the nations with only 4 competitors present (see team points in attachment)
The closing ceremony continued at Club Waikiki, the oldest surf club south of the Rio Grande that opened in 1943 ! An fantastic country that biggest national sport after soccer is surfing. One thing continued to amaze us was the swell coming in night and day for the 12 days we spent in Lima. Thanks to ISA, SSA for helping us officialize Switzerland's participation and all the kind people at Club Waikiki who welcomed us so openly.
VIVA SUP !! VIVA PERU !!!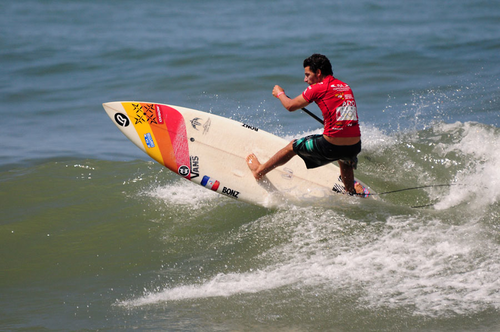 Antoine Delpero showing his magic during the SUP Surf final in La Pampilla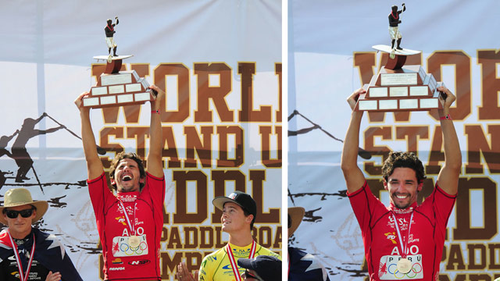 The stoke of winning an ISA event. Antoine Delpero (FRA) holding the Hector Velarde Perpetual Trophy with the Gold Medal hanging from his neck. Photo: ISA/Michael Tweddle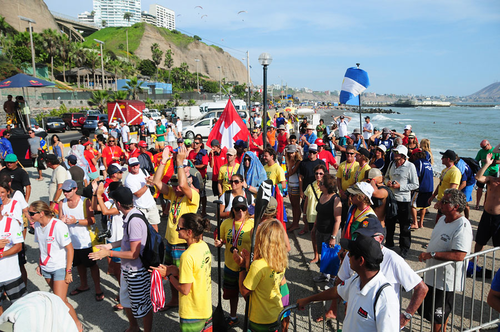 The closing ceremony with the Waikiki Surf club on the left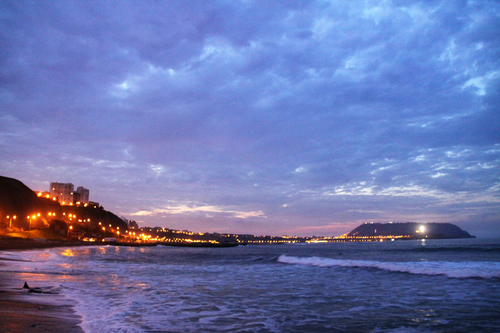 Miraflores Lima we will miss you and your waves !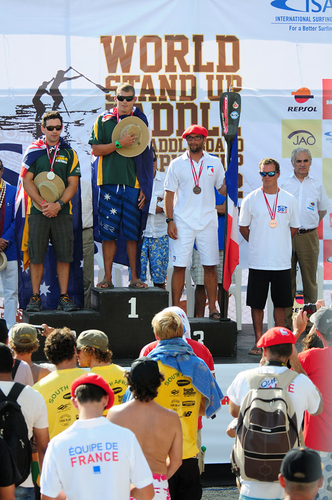 Gold – Jamie Mitchell (AUS) Silver – Travis Grant (AUS) Bronze – Eric Terrien (FRA) Copper – Jay Wild (USA). Credit:ISA/Tweddle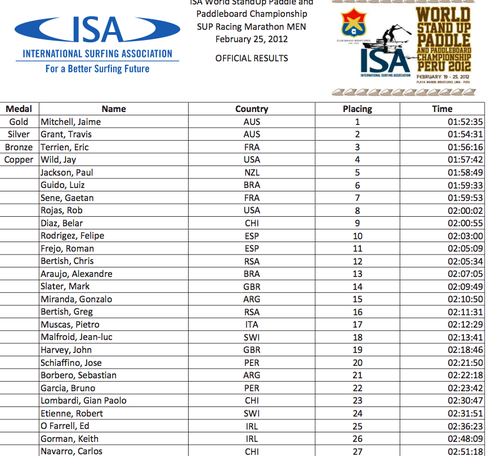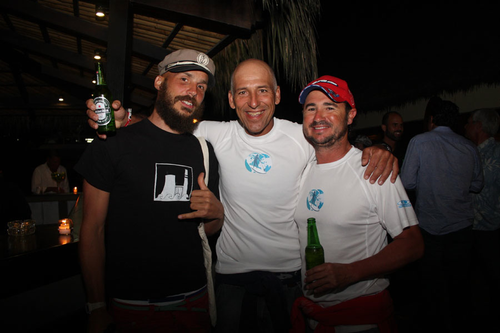 Steeve Fleury, Guillermod Pena and Fernando Labad at the Waikiki closing ceremony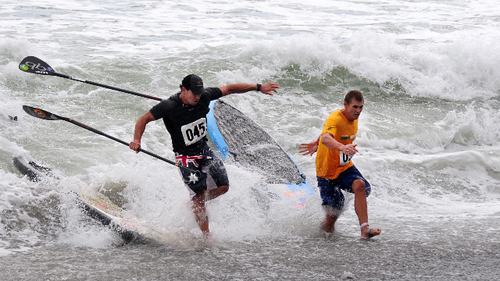 This is the kind of action that makes it all so exciting: Jamie Mitchell (AUS) was first to the finish line but had dropped his paddle during the beach sprint.
He ran back, retrieved it and finished second to team member Travis Grant. Photo: ISA/Michael Tweddle
A big thanks to all the encouragement received during the duration of the competition !! Lot's was learnt and we're motivated to go out and get back on our boards on all the beautiful Swiss lakes and waterways !
More info on the event and Swiss SUP activities will soon be posted on Switzerland's Stand Up Paddle Association website http://www.assup.ch/ once the site is remodeled. For the time being all info request should be sent to:
Pour être informé des derniers articles, inscrivez vous :